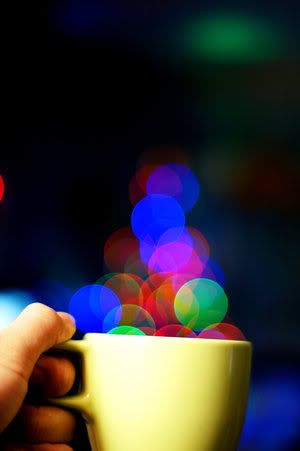 " Do you believe in Jesus Christ?"
Life. Recently. Is Neutral. I won't say that it's horrible or to be insanely awesome, but just neutral
What does it take to forget someone you care about? It's not that easy for me to fathom out.
I care for people. When I do care for someone, I care for them all out. I always think what's best for them, not for myself. My momma said that it's good to be like that, but sometimes I'm being too selfish to myself. Mother knows best :) And the things I get in return from you? Your hateful remarks.
As history repeats itself.
You won't cherish a friendship, until you realize it's over.
I thought what we had was really something,
but it turned out that all the glitters are not gold.
I felt this deep connection within us.
But somehow somewhat.
You unplugged it.
A woman is like a rose,
If you treat her right,
She will bloom.
If you don't,
she will wilt.
My mind has been playing tricks on me. Mind games to be precise. Somehow I think there's another part of me dominating over my mind. I just want to get things right. No matter how I try to fix things, it just seems that I'm making more damage than amends. It's hard. To forget about someone you care of. Not especially when that someone is your best friend. Having such fond memories together. Sometimes I hate myself for feeling this way. I'd do anything to be my ownself and feel normal. Those 5 good years were something. We were like little school kids who once learned their ABC's together to grown teens.
My one regret. Was to overlook what I had before and only started to cultivate everything I have now. We all know that one day high school will be over with. Then we all have to start our lives anew once again. Fate is like gravity. You may FEEL like jumping up and down till your hearts content, but the earth still falls into the sun, and the sun still courses through the galaxy, both indifferent and short lived and insignificant defiance.
The best way to find your perfect match, is to meet
love
half way.
I forgotten what its like to feel that way. All the tingly sensation in your guts and having to feel the way that gravity seemed to be miscomprehended and levitates you off the ground. I sworn that I will not feel that way ever again until the time is right. My momma and daddy always taught me to never love another until the time comes. Well, its easier when your mouth is doing all the talking but I'm doing all the feeling. I'm trying my best to not plunge into the sea of regrets. Like a friend once told me,
relationships are like chewing gums. It taste really SWEET in the beginning, and after awhile, it gets TASTELESS, and you spit it out.
Basically, that's true.

:)
I have a stubborn head. And my paranoid meter is off the charts xD Love doesnt happen to me always. I'm not that kind of girl who gets favoured by most boys. But that's okay with me. I tend to live with that :) Well dear girls, please stop complaining on how your boyfriends are NOT spending time with you. It wont KILL YOU to hold a worm, or even get yourself sweaty! Because we girls here are what your boyfriends truly deserve.
I.LOVE.MY.FAMILY.AND.FRIENDS. :)
Sometimes, you just have to follow your heart. :) Listen to it, because it's trying to tell you something :)